Triplet du Lion (M65, M66, NGC3628)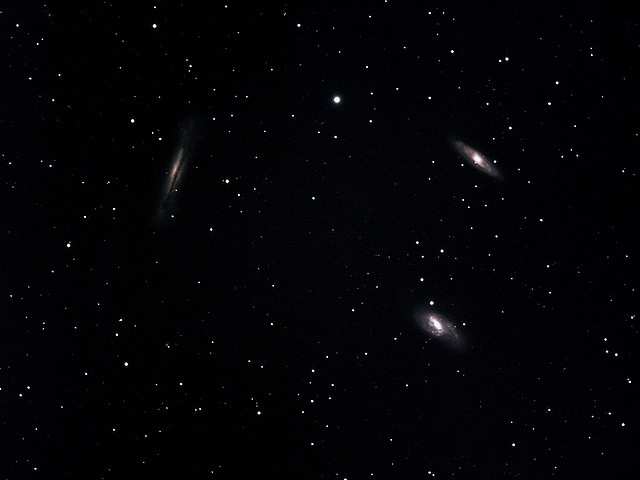 Les galaxies sont M65 (en haut à droite), M66 (en bas à droite) et NGC 3628 (gauche). Elles sont à environs 35 millions d'années-lumière et ont été découvertes entre 1780 et 1784.

64 (16x4) minutes de pose, ISO 400 avec un EOS 400D sur la Takahashi FSQ106.
Voir aussi sur flickr.
---
Commentaires :
Par astrometry.net le 03 août 2009
: Hello, this is the blind astrometry solver. Your results are:
(RA, Dec) center:(170.03933698, 13.2760721411) degrees
(RA, Dec) center (H:M:S, D:M:S):(11:20:9.441, +13:16:33.860)
Orientation:121.36 deg E of N
Pixel scale:2.22 arcsec/pixel
Parity:Reverse ("Left-handed")
Field size :75.86 x 56.89 arcminutes
Your field contains:
NGC 3623 / M 65
NGC 3627 / M 66
NGC 3628
View in World Wide Telescope
-----
If you would like to have other images solved, please submit them to the
astrometry group
.
Par FUGACES. le 22 avril 2011
: Te invito a agregar tu foto a:
Please add your photo to:
Astrofotografos del Mundo/ World´s Astrophotographers