Running Chicken (IC2948)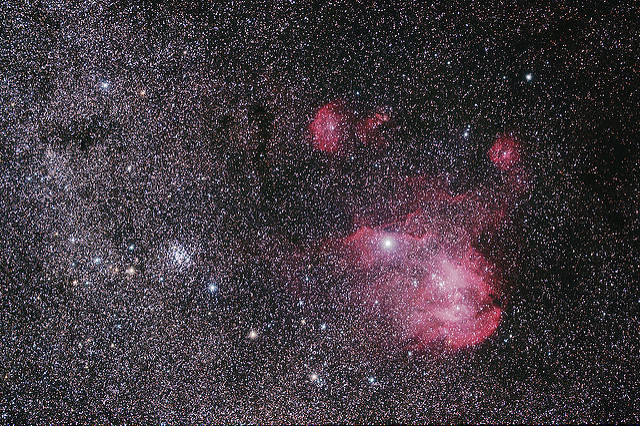 La nébuleuse du Poulet qui court (ils ont dû abuser du pisco pour voir un poulet là dedans...) est un vaste nuage de gaz situé à environs 6000 années-lumière.
1h30 (90×1min) de pose, Canon EOS 40Da et EF 300mm f4, sur un Astrotrac
Réalisé à l'observatoire Del Pangue, Chili
Voir aussi sur flickr.
---
Commentaires :
Par mll le 07 mars 2011
: ah oui, aller au CHili, ce n'est pas de la passion, c'est de la rage :)
Par astrometry.net le 10 mars 2011
: Hello, this is the blind astrometry solver. Your results are:
(RA, Dec) center:(173.467298379, -62.5639636303) degrees
(RA, Dec) center (H:M:S, D:M:S):(11:33:52.152, -62:33:50.269)
Orientation:91.10 deg E of N
Pixel scale:10.36 arcsec/pixel
Parity:Reverse ("Left-handed")
Field size :4.32 x 2.88 degrees
Your field contains:
The star λCen
IC 2872
NGC 3766
IC 2944 / lambda Cen nebula
IC 2948 / lambda Cen nebula
View in World Wide Telescope
-----
If you would like to have other images solved, please submit them to the
astrometry group
.
Par Erik N Larsen le 18 avril 2011
: Very well processed , great shot.