Dentelles du Cygne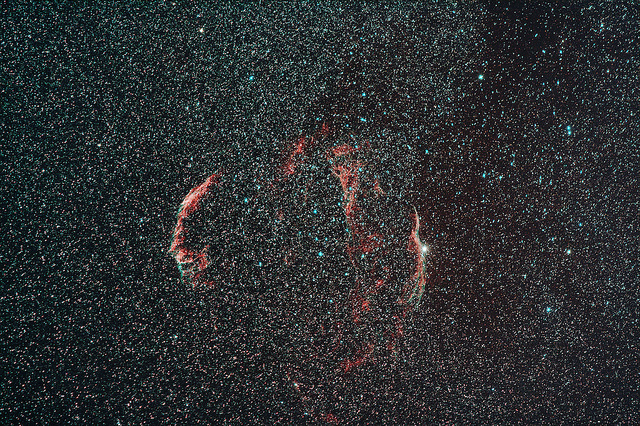 Les Dentelles du Cygne, distantes d'environs 2000 années-lumière, sont un reste de supernova ayant explosé il y a 5000 à 8000 ans.

2h30 (30×5minutes) de pose, Canon EOS 40Da et EF 70-200/2.8 à 200mm f2.8, sur une monture Astrotrac.
Voir aussi sur flickr.
---
Commentaires :
Par astrometry.net le 10 octobre 2010
: Hello, this is the blind astrometry solver. Your results are:
(RA, Dec) center:(312.561765786, 31.3319079992) degrees
(RA, Dec) center (H:M:S, D:M:S):(20:50:14.824, +31:19:54.869)
Orientation:168.68 deg E of N
Pixel scale:23.18 arcsec/pixel
Parity:Reverse ("Left-handed")
Field size :6.59 x 4.39 degrees
Your field contains:
The star 49Cyg
The star 52Cyg
NGC 6960 / Filamentary nebula / Lace-work nebula / Veil nebula
IC 1340
NGC 6992 / Network nebula / Veil nebula
NGC 6995 / Network nebula / Veil nebula
View in World Wide Telescope
-----
If you would like to have other images solved, please submit them to the
astrometry group
.
Par Erik N Larsen le 11 octobre 2010
: Nicely done wide shot of the Veil.
Par Eriza le 12 octobre 2010
: Wonderful shot! I've never shot this area, but I think the WB shifts a bit, doesn't it?
Par Сергей' le 12 octobre 2010
: indeed, I missed it
Par closed adjustment le 26 avril 2011
: wow, great work