Nébuleuse Californie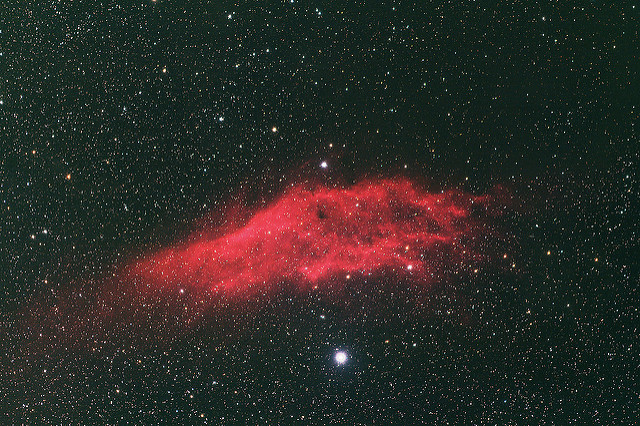 La Nébuleuse Californie (NGC1499) est une nébuleuse en émission située en direction de la constellation de Persée. D'une longueur d'environ 100 années-lumière, elle se trouve à environ 1 500 années-lumière de la Terre

2h (20×6minutes) de pose, Canon EOS 40Da et EF 300mm f4
Voir aussi sur flickr.
---
Commentaires :
Par astrometry.net le 30 septembre 2011
: Hello, this is the blind astrometry solver. Your results are:
(RA, Dec) center:(60.2368003964, 36.6764317808) degrees
(RA, Dec) center (H:M:S, D:M:S):(04:00:56.832, +36:40:35.154)
Orientation:-163.74 deg E of N
Pixel scale:10.17 arcsec/pixel
Parity:Reverse ("Left-handed")
Field size :4.24 x 2.82 degrees
Your field contains:
The star ξPer
NGC 1499 / California nebula
View in World Wide Telescope
-----
If you would like to have other images solved, please submit them to the
astrometry group
.
Par Simon's Brain le 30 septembre 2011
: WOW !!!!!
Respect mec !
Par delorme.claude le 30 septembre 2011
: Superbe photo contemporaine de Clovis, qui me donne une furieuse envie de resortir ma modeste lunette Perl 60 /900 :)
Bravo pour ces talents de photographe pas seulement limités à l'astrophoto d'après ce que j'ai vu suite à une courte visite de ta galerie !!!
Par Lester91 le 30 septembre 2011
: Very nice view of the California nebula.