Galaxie du Triangle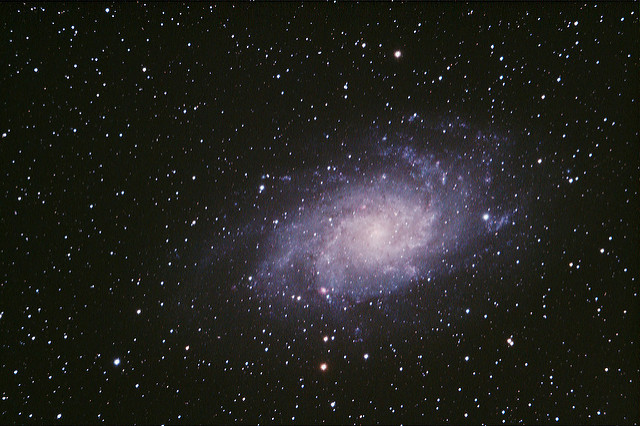 Située à environs 2,8 millions d'années lumières, cette galaxie est une de nos proches voisines

2 heures (20x6min) de pose, Canon EOS 40Da et lunette AstroProfessional ED115 (800mm f7)
Voir aussi sur flickr.
---
Commentaires :
Par Salvatore Motsu le 03 octobre 2011
: So beautiful !
Par astrometry.net le 03 octobre 2011
: Hello, this is the blind astrometry solver. Your results are:
(RA, Dec) center:(23.411760755, 30.8021732145) degrees
(RA, Dec) center (H:M:S, D:M:S):(01:33:38.823, +30:48:7.824)
Orientation:92.18 deg E of N
Pixel scale:3.81 arcsec/pixel
Parity:Reverse ("Left-handed")
Field size :1.59 x 1.06 degrees
Your field contains:
NGC 598 / M 33 / Triangulum galaxy
View in World Wide Telescope
-----
If you would like to have other images solved, please submit them to the
astrometry group
.
Par Space Ritual le 07 octobre 2011
:
Thank You for Posting at DIMEX
Well done. Excellent Image!


Seen in DIMEX group.
Par Romain Bergeot le 23 décembre 2011
: décidément quel claque visuel sur ta gallerie